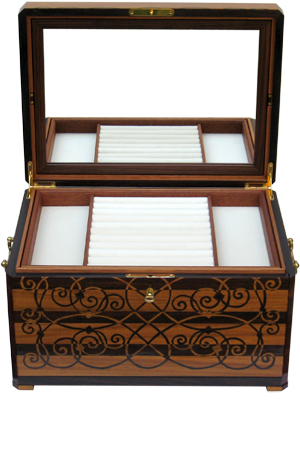 We not only build unique handcrafted jewelry boxes, we can build you a single or double-decker jewelry insert in solid wood that fits perfectly in your existing jewelry drawer.
We have the solution for keeping your jewelry perfectly accessible and well-organized with style. Our handmade jewelry drawer inserts come in all different types of solid wood, fabric colors and compartment arrangements. Fabric options include velvet in a variety of colors, and we add silver cloth to help prevent tarnishing of your jewelry. Each compartment can be designed to accommodate any kind of jewelry, no matter the size or shape.

Just send us an email with a picture and the dimensions of your jewelry drawer, as well as the color of velvet and what type of wood you would like, and we would be happy to send you an estimate for your custom insert.