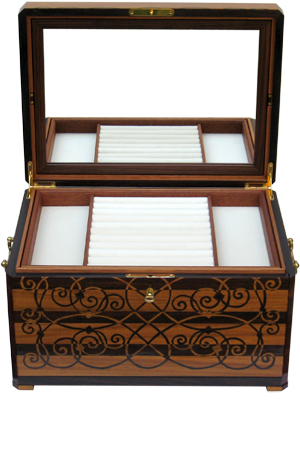 On the following pages, you can find a detailed description and pictures of our jewelry boxes. We can also customize them according to your personal tastes and style. You can choose from at least 20 different types of wood for the exterior of the box.
In addition some of the boxes have secret compartments for hiding the key and other valuables and we integrated silvercloth fabric into the boxes interior which prevents tarnishing of your jewelry.
We are able to include, for example, your initials, marquetry pictures (pictures made of veneer), and veneer patterns, or we can simply match them to your home and living space. The interior of the box can be designed according to your wishes.

The materials and methods we use (e.g. saw-cut veneer with 1- 2 mm thickness; French Polish finish which gives the piece an elegant high-gloss look with vibrant colors) to build these unique boxes allow for future restoration, ensuring a long lifetime.